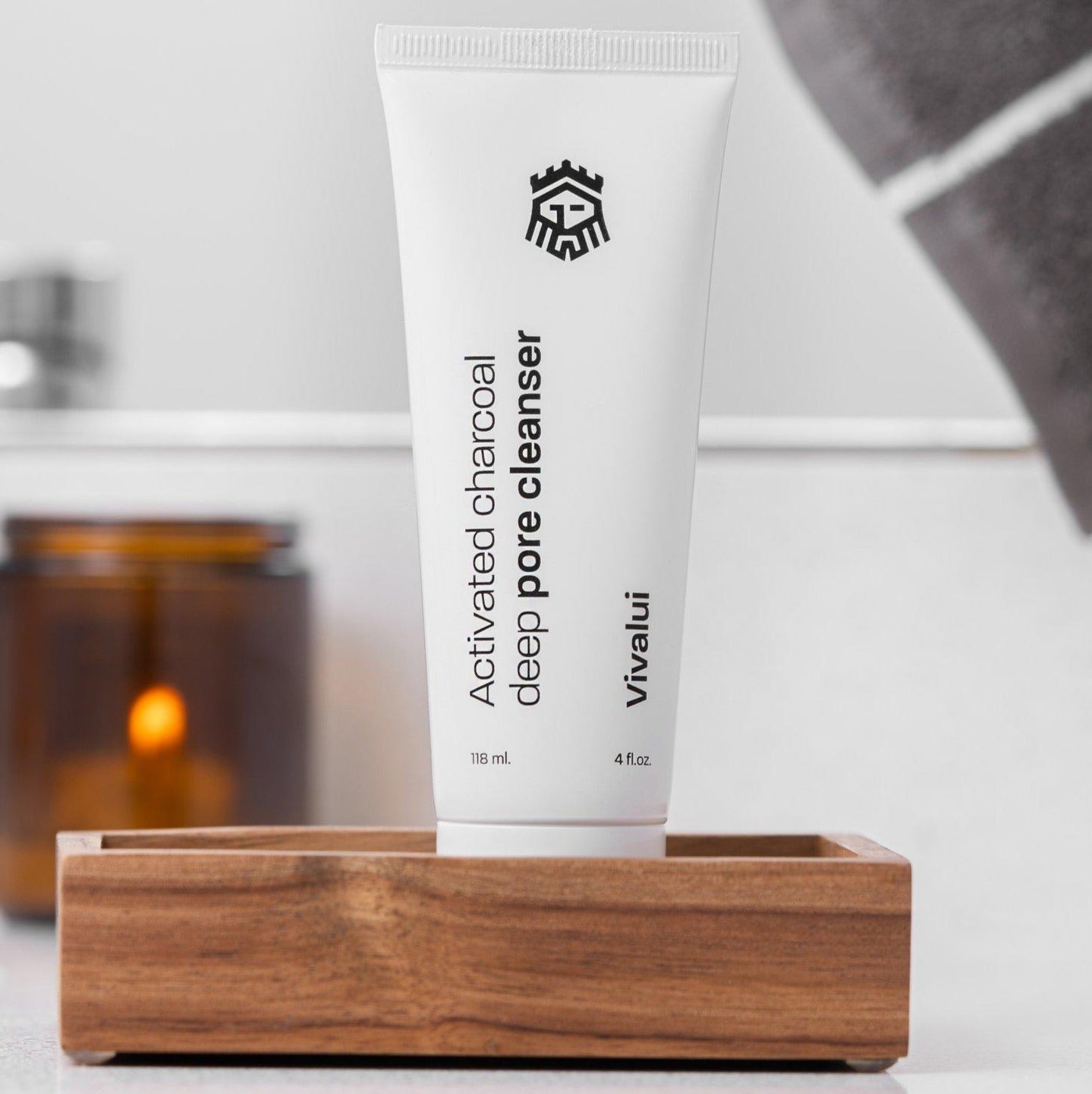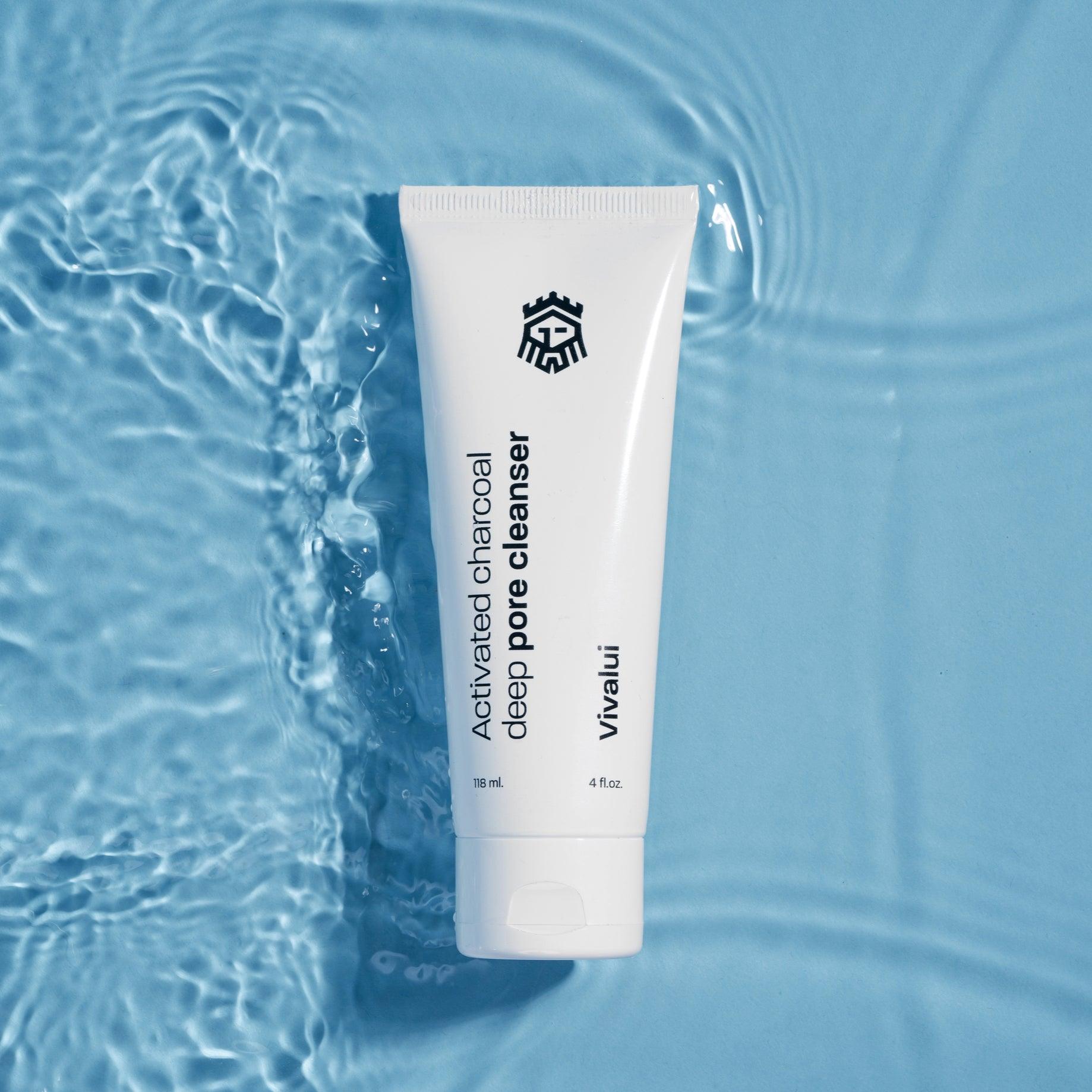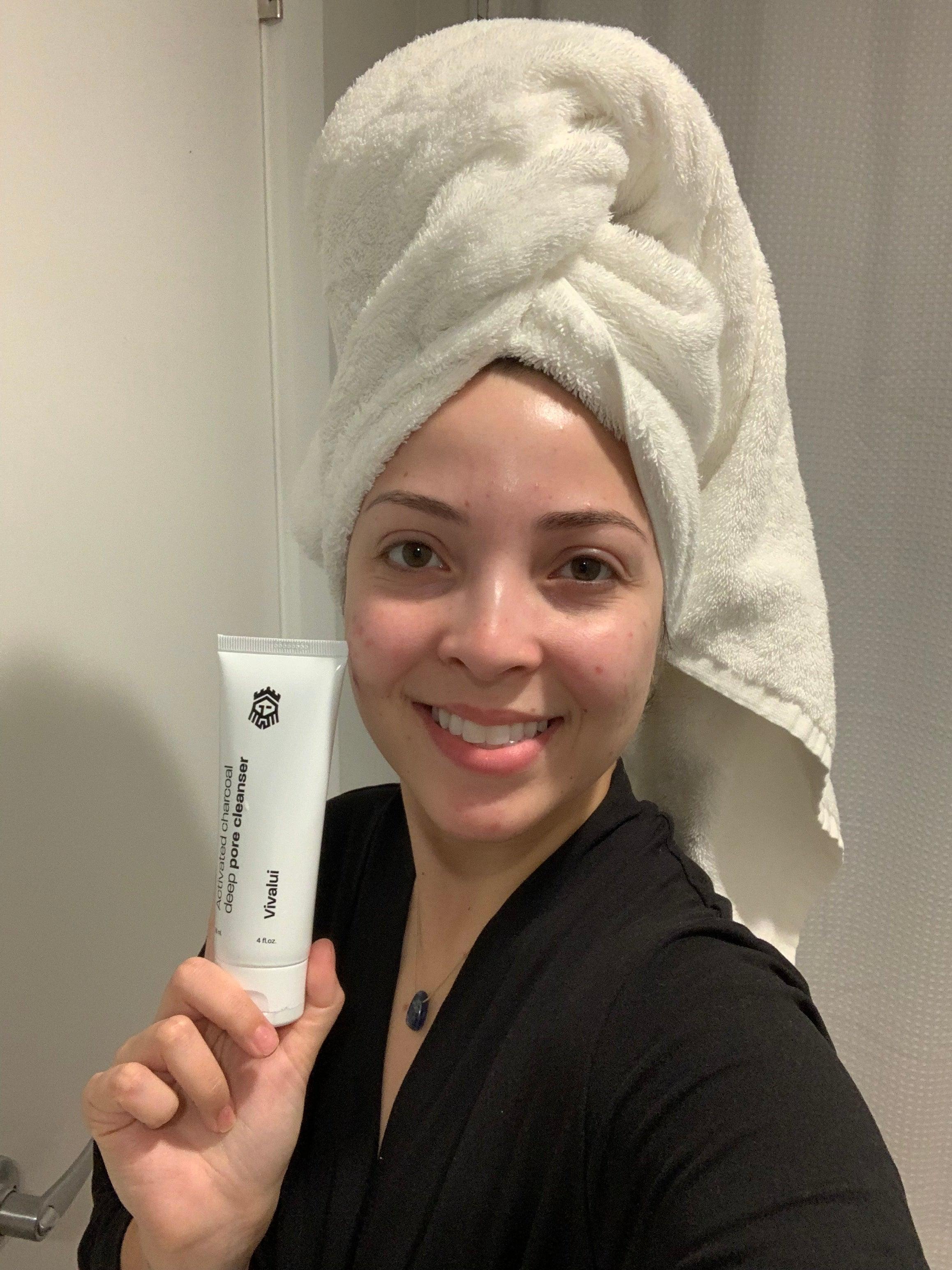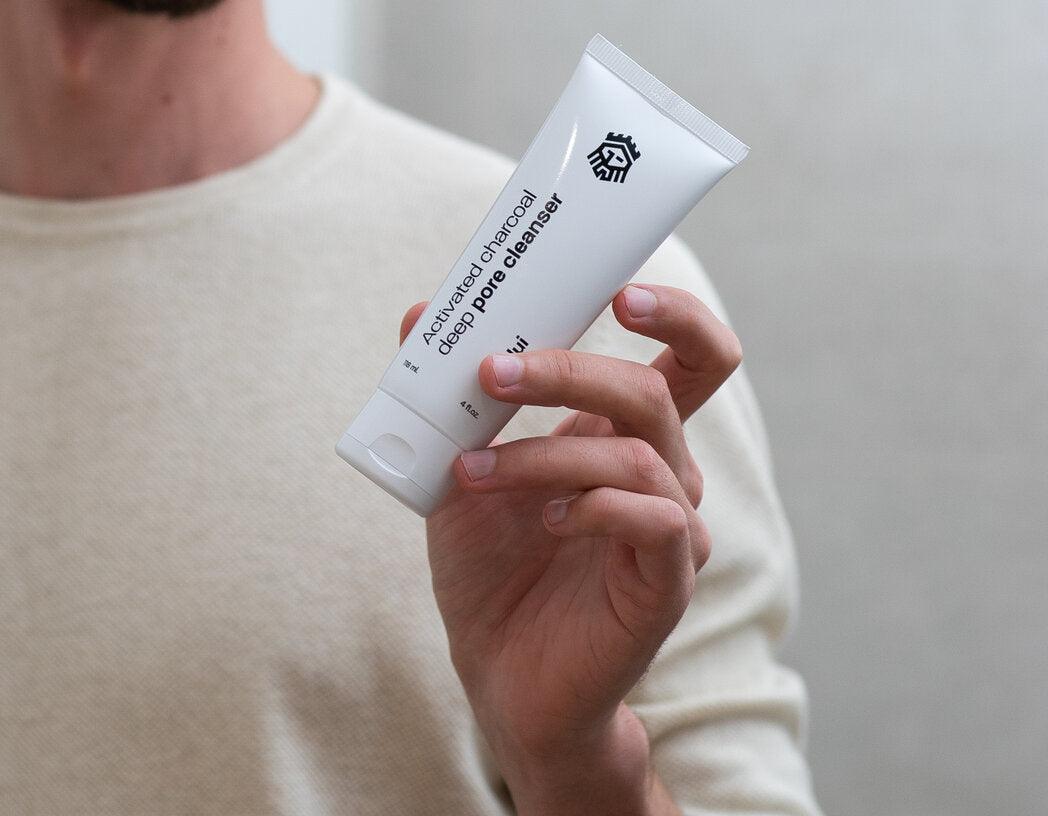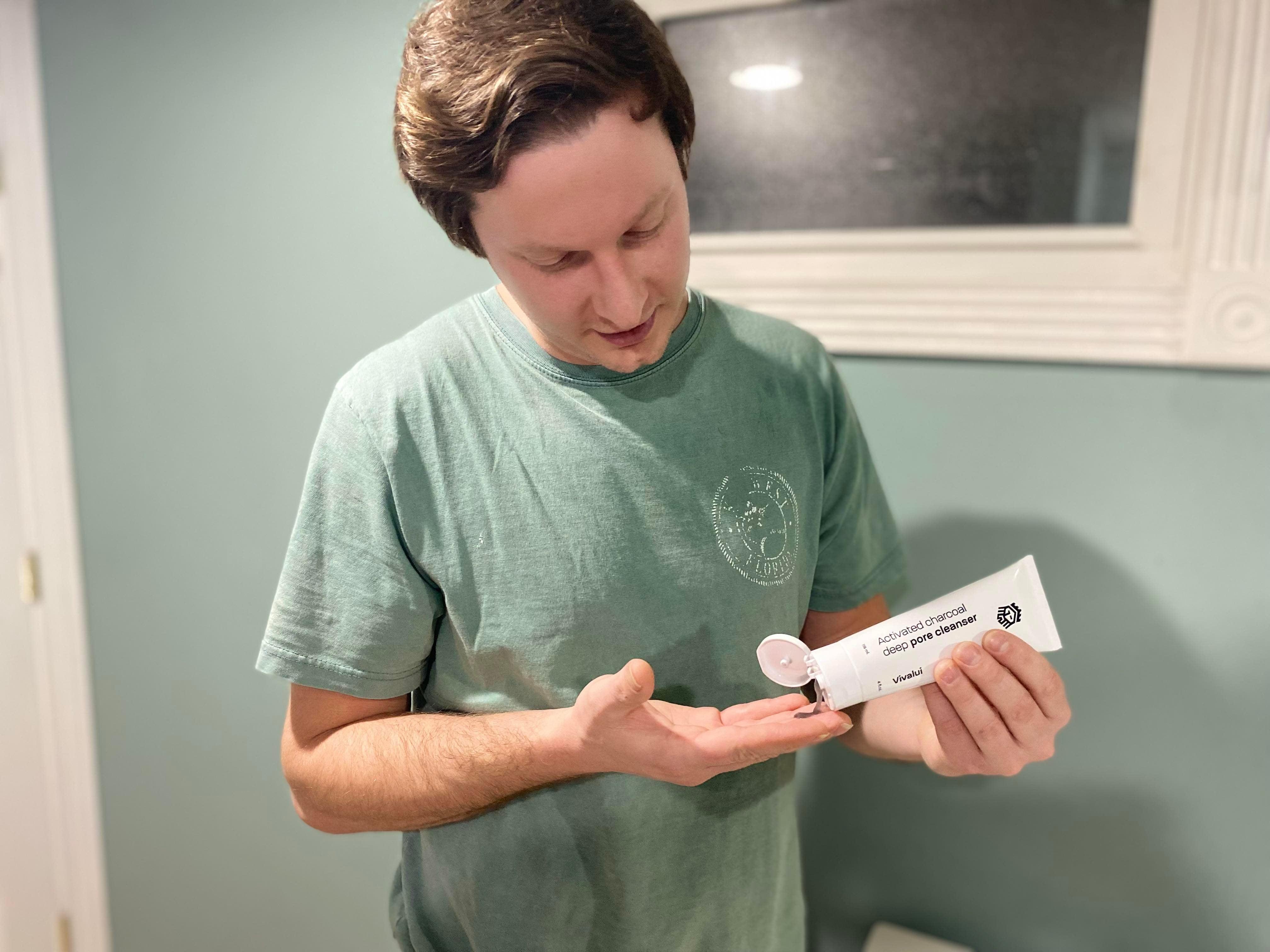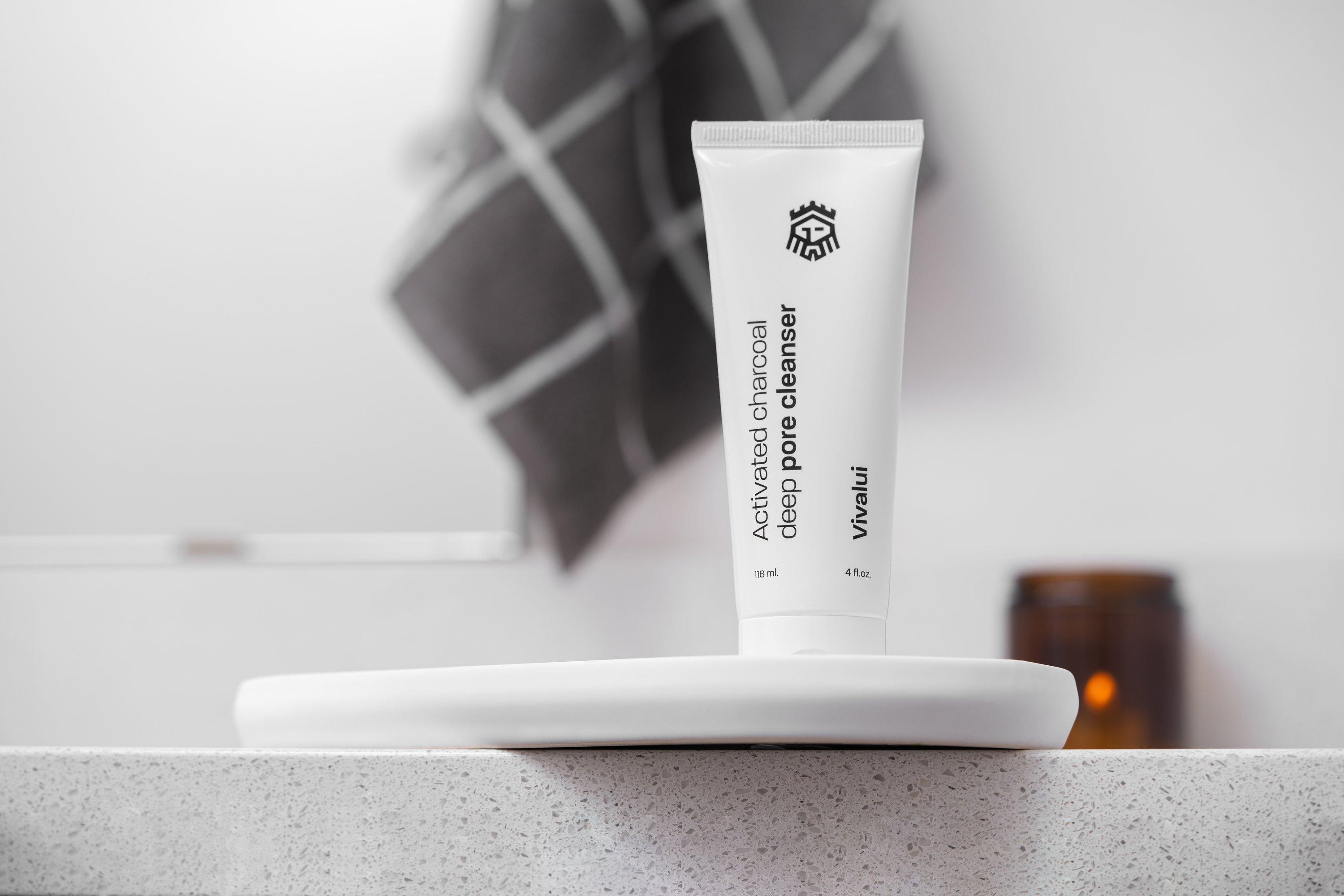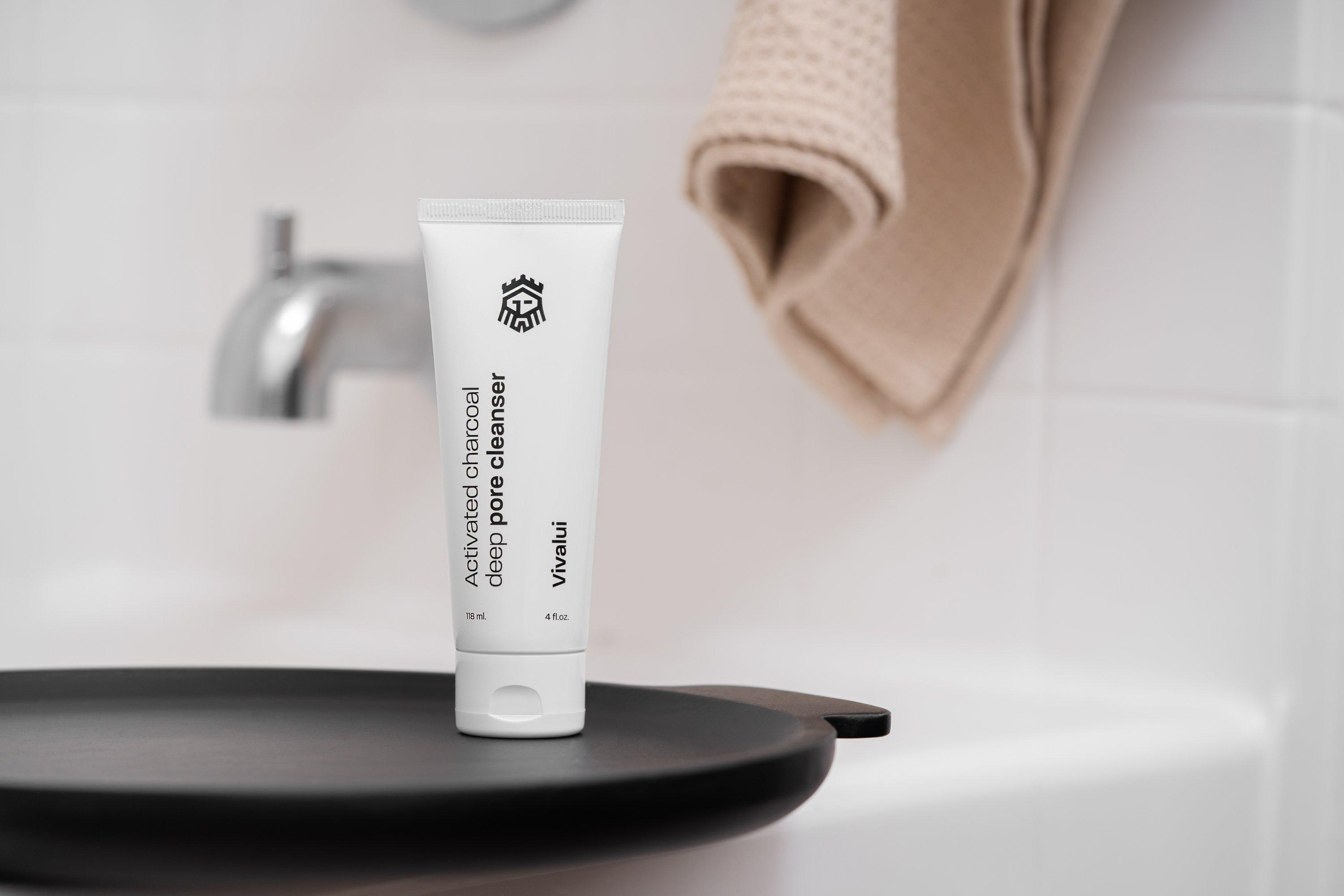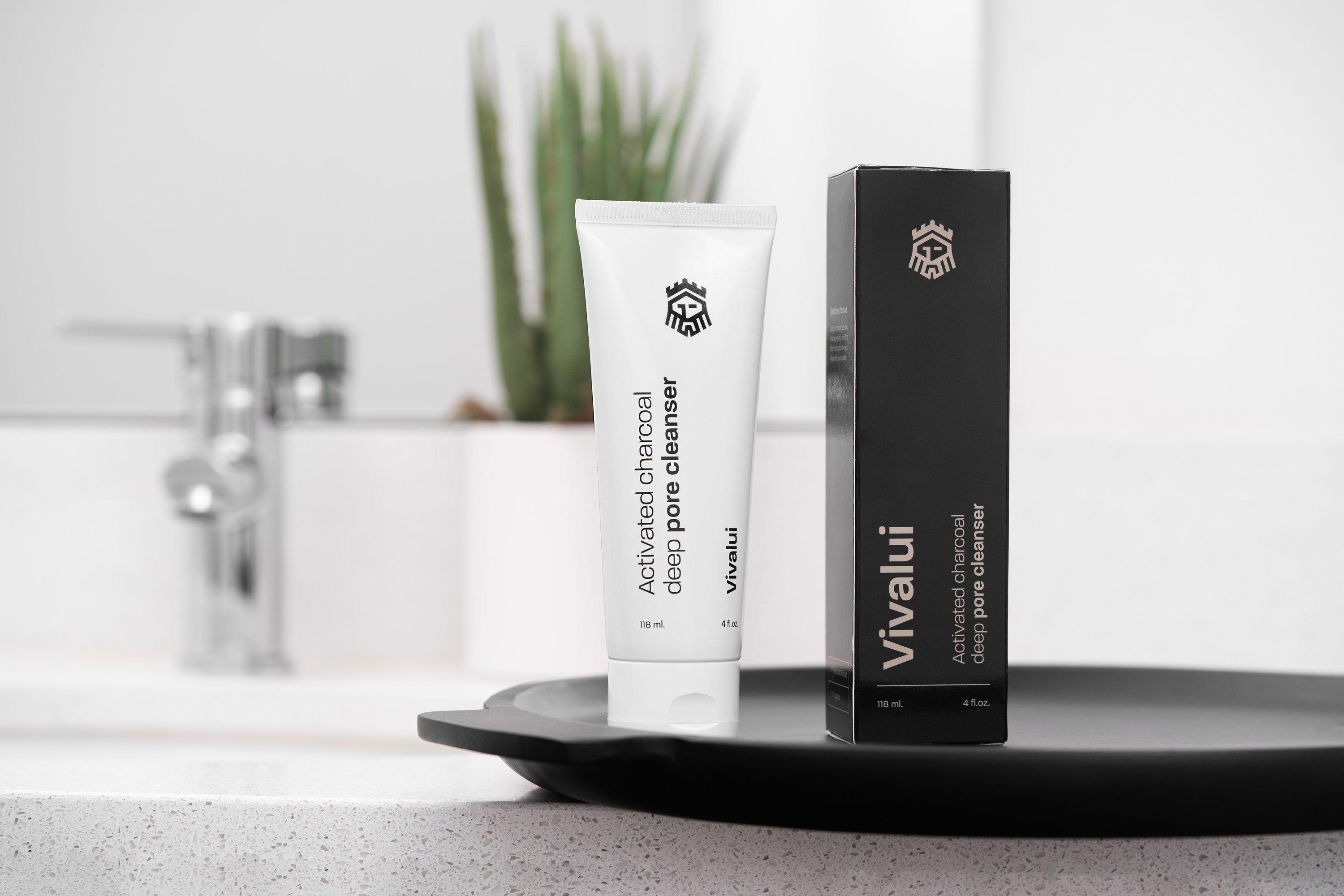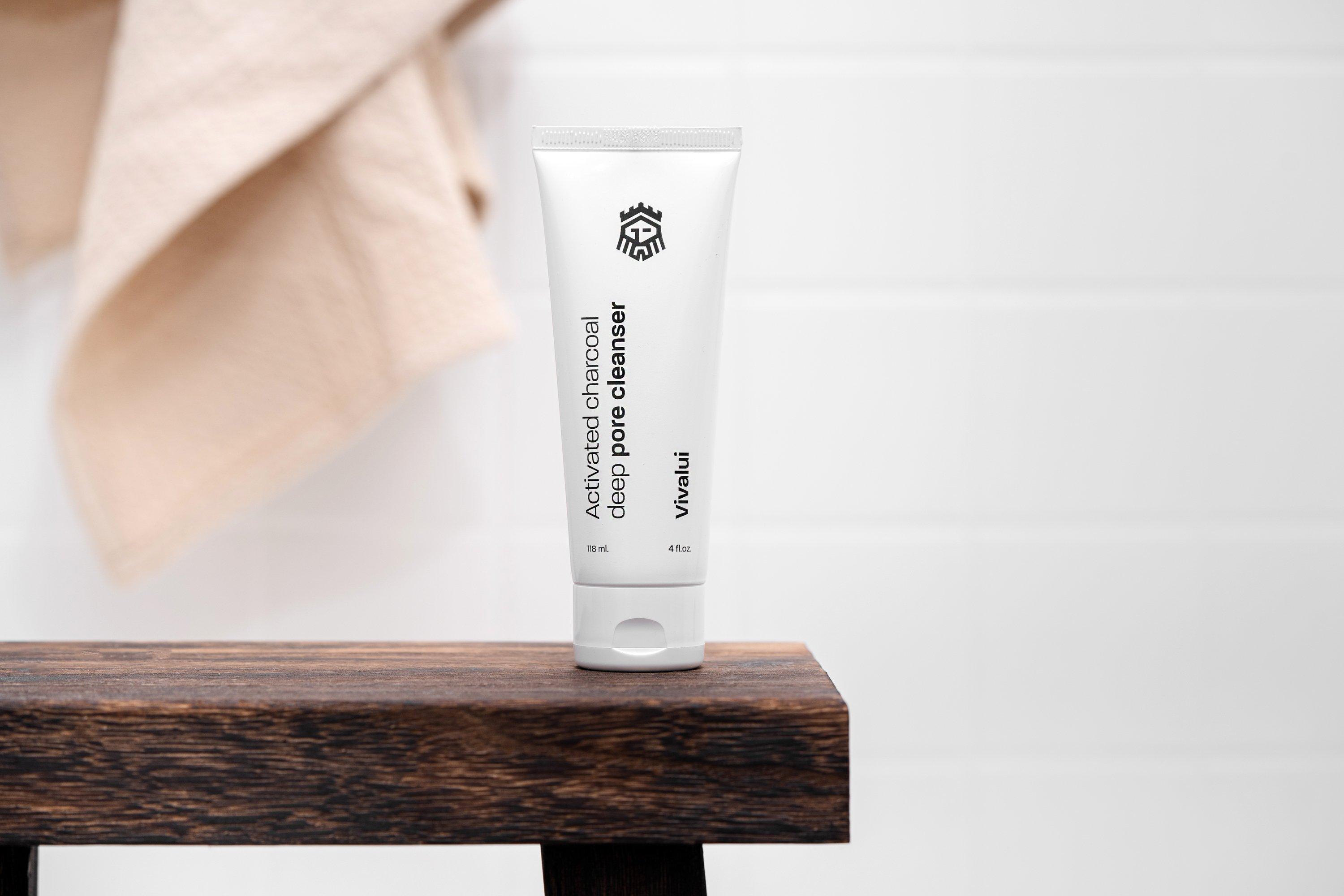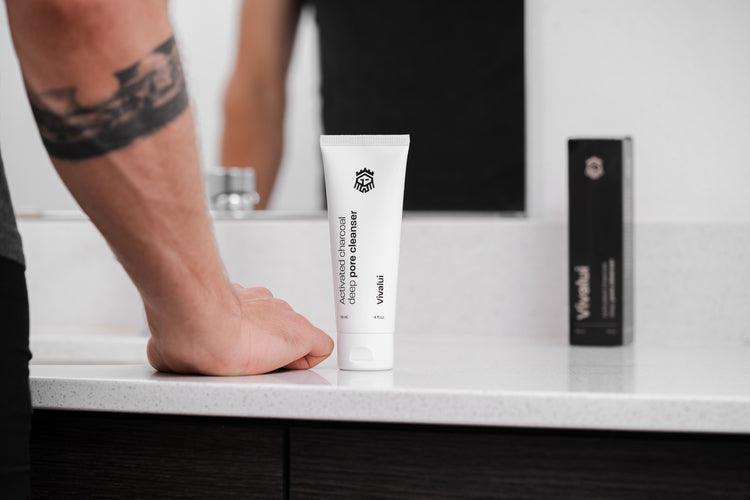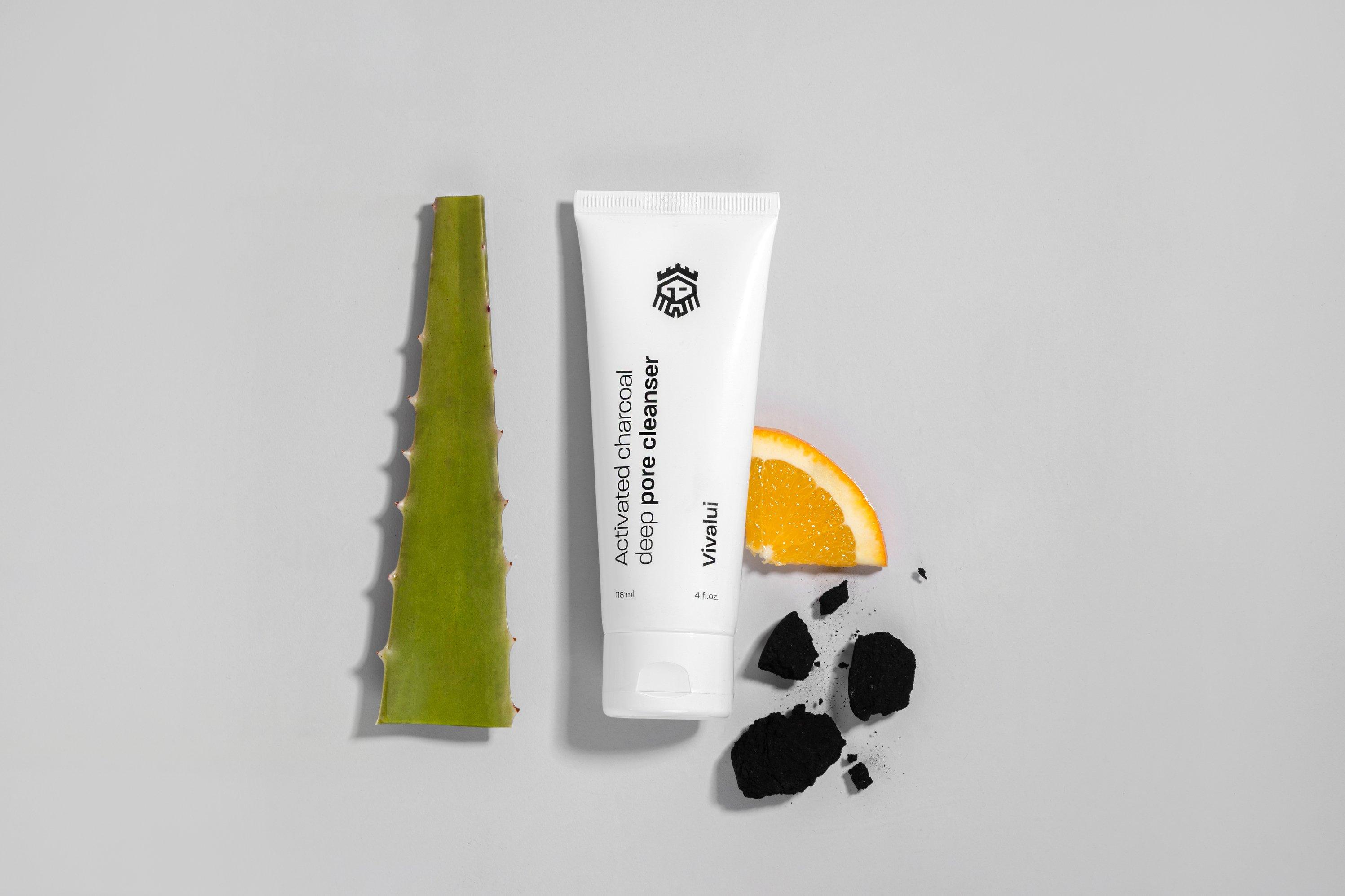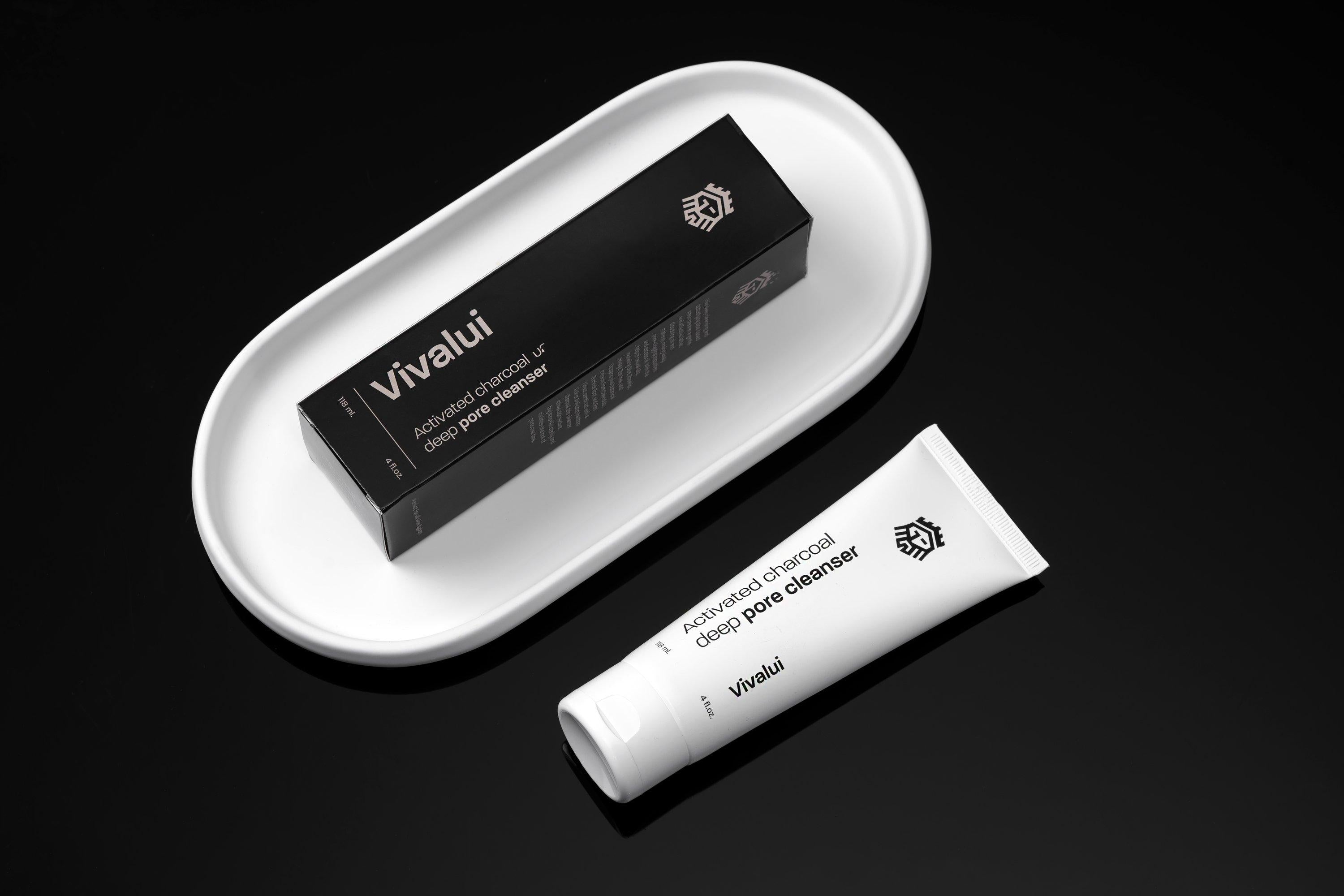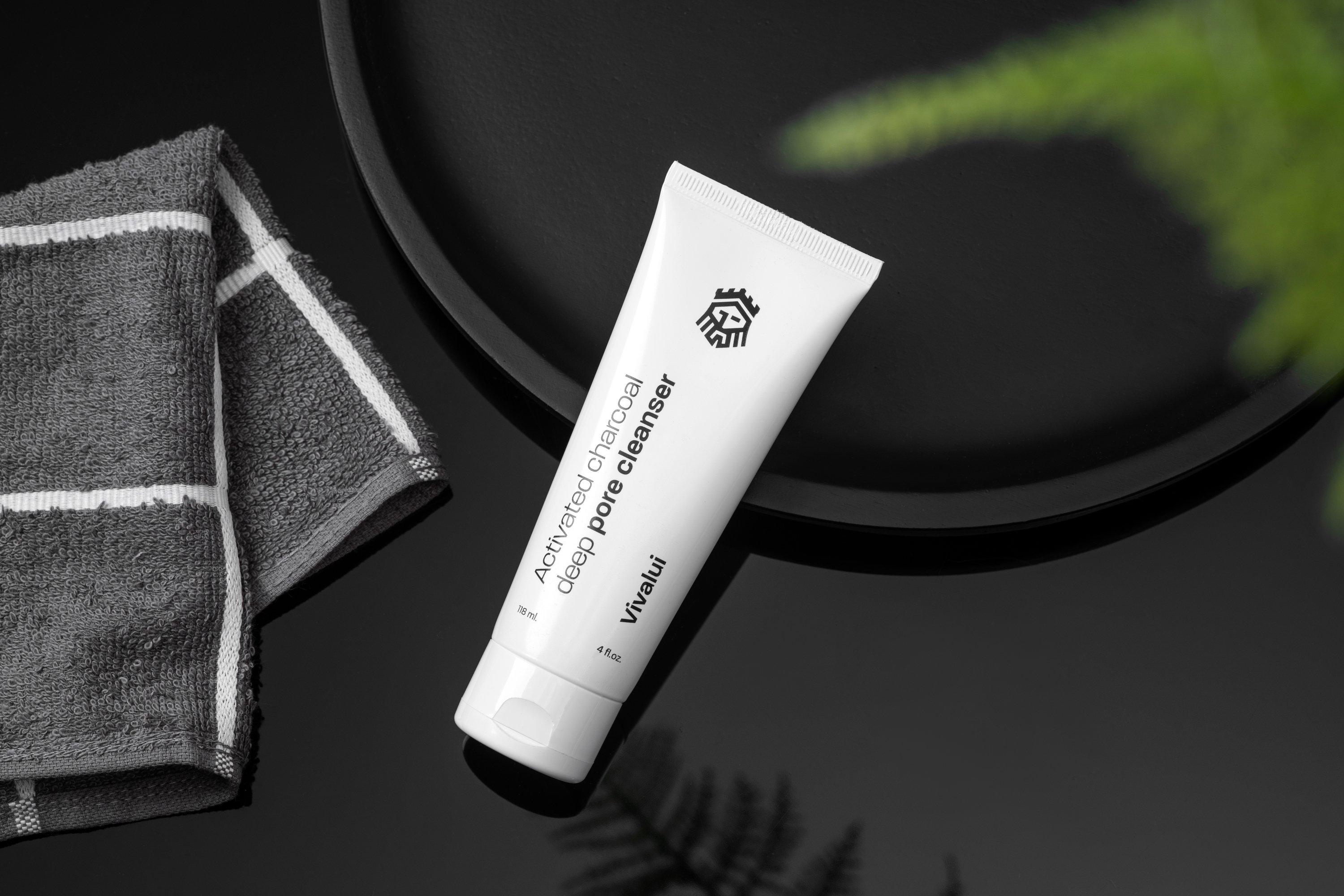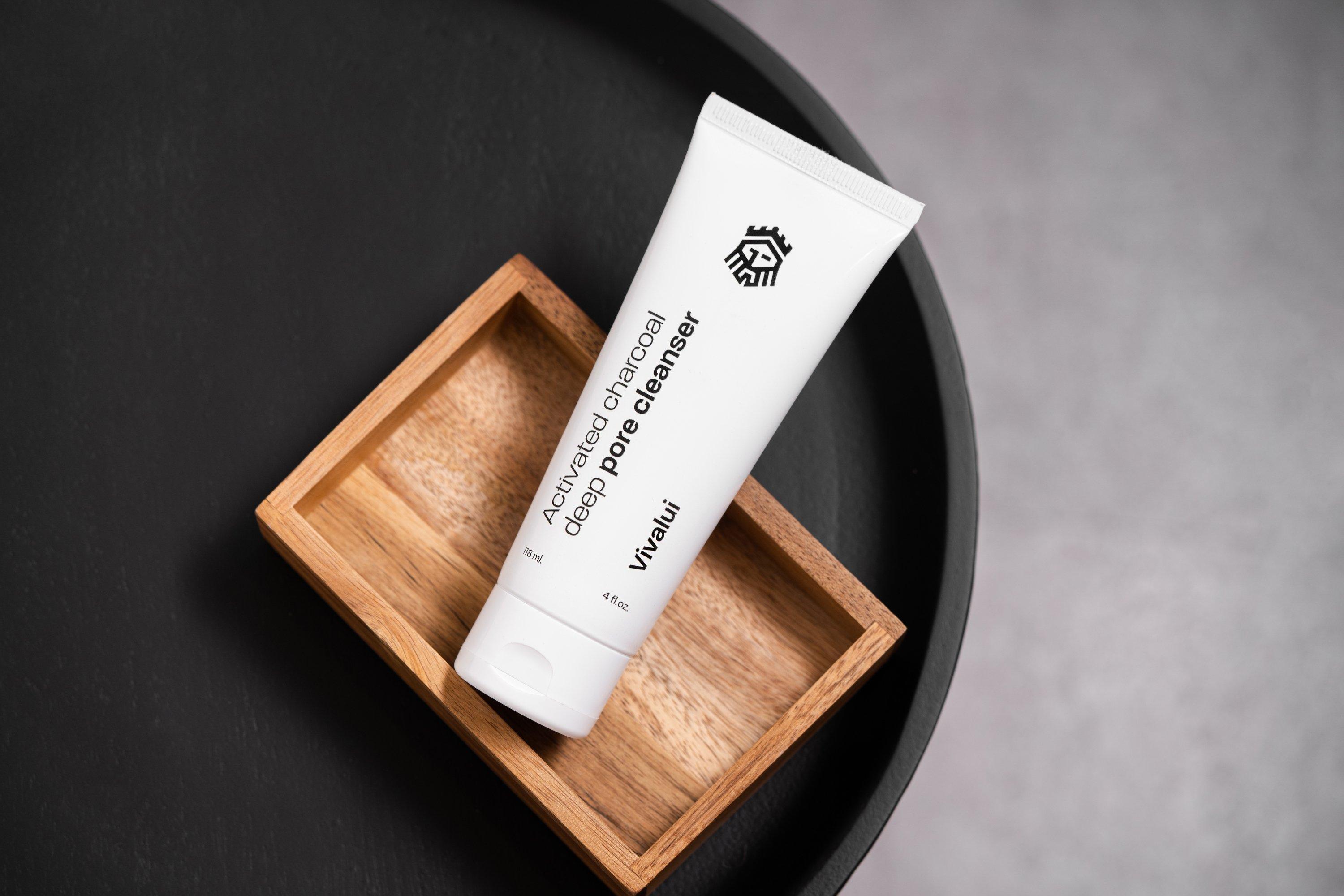 CleanBase+
Bamboo Charcoal and Citrus Facial Cleanser
Get rid of blackheads and redness with a gently exfoliating Bamboo Cleanser. Charcoal sucks out impurities by binding to dirt and drawing it out of your pores. The CleanBase+ is an activated charcoal cleanser with extra goodies for your skin and is one of the best cleansers for oily skin and large pores.

With Rosehip oil, Aloe Vera and Charcoal, this bamboo cleanser scrubs and refines your skin texture, removes dark spots, brightens your skin, and shrinks your pores. 

Hydrate + Refine + Soothe your skin. Gentle enough for all skin types. Naturally Derived & Organic. Cruelty Free. No Sulfates or Parabens.
Best
It leaves your skin so soft. Love the smell also.
Nice Cleanser!
I received the Vivalui Cleanbase+ Bamboo Charcoal and Citrus Facial Cleanser for free in exchange for my honest review. This facial cleanser is a dark gray gel (due to the charcoal) that has an earthy fragrance that is pleasant and not overwhelming, but it does lean masculine. I found the cleanser easy and enjoyable to use, and it creates a subtle lather. While I didn't see dramatic results with continued use, I did feel like it started to improve the appearance of my pores, and my skin felt noticeably smoother after use. I do feel that this is an effective cleanser that provides gentle exfoliating benefits! It also left my skin feeling comfortable and healthy, rather than dried out like some harsher facial cleansers do. Overall, I was really happy with this cleanser!
I'm loving this cleanser.
I recently received a sample of Bamboo charcoal deep pore cleanser and it has visibly shrunken my pores and aren't as noticeable as before. It's gentle on my skin with no breakouts and leaves my face so soft and smooth. It's a great product.
Good product
Very watery but good product
Watery but Good!
This facial cleanser seems to be aimed mostly towards men, but I decided to try it anyway. The first thing I noticed was the texture. It's very thin and watery. I think Vivalui could do with a better container. It's too runny and hard to control with this bottle design. I would prefer something upright so I don't risk spilling all of the cleanser when I open it. My only other issue is the scent. It's not terrible, but I really don't like it. A scent free version would be welcome. I love all of the ingredients. I've especially heard good things about aloe and tea tree oil, so I'm excited to try a cleanser with both. With my sensitive skin I have to be careful about what I put on my face, but this cleanser has left my skin feeling great. No irritation and smooth skin is a win in my book. Overall, I really like this cleanser. I'd use it again.
Shipment tracking numbers are sent via email as soon as your order is shipped. Order processing may take 2 business days or longer for special orders: Orders higher than $500.


Delivery times range from 3 - 5 business days via USPS, UPS or other standard shipping carriers.

Free Shipping
Orders that qualify for free shipping will be shipped at no cost to you. We reserve the option of choosing our own shipping method.

Returns
Return shipping charges for items not specifically covered under warranty or otherwise damaged or defective will be deducted from any refunds given. Free items, Items on sale, discounted items cannot be returned.
All items in a bundle must be returned together for a refund or exchange.

Shipping Options
Standard Shipping: $3.99
2-day Shipping: $17
US Shipping
Ground Residential / Commercial: $15 USD 
UPS 2 Day Shipping: $55 USD
International Shipping via UPS/USPS: $20.00 USD and up

Track Your DHL package here.
Track Your FedEx package here.
Track Your UPS package here.
Track Your USPS package here.

Shipping and Delivery Problems
If your order is lost or damaged, the carrier must conduct an investigation.
Please contact Vivalui to initiate a case within 10 business days of the item shipping out. If the package cannot be located, the shipping carrier will process a claim for the package. Claims can take up to two weeks to process. When the carrier claims responsibility for the loss or damage of your shipped item(s), insurance reimbursement will be issued to us, and the replacement item(s) will be shipped out. If the item(s) is no longer available, and a similar item is rejected, Vivalui will gladly refund your original payment.

If there are any noticeable discrepancies with your order or if the item delivered is the wrong item, please contact us to make the necessary corrections. Product discrepancies not notified to Vivalui within 5 days are not eligible for replacement. Please do not use items that you believe are incorrect as it may void our ability to exchange or replace the items.

Packaging
In the unlikely event that goods are received with damaged packaging, such as outer boxes, cases, instructions, manuals, etc. Vivalui reserves the right to replace only the packaging of products sold herein. 
For any other shipping questions, please contact us at support@vivalui.com
Benefits of charcoal face wash
Deep Hydration
The CleanBase+ Activated Bamboo Charcoal Face Wash is a gentle cleanser suitable for even the most sensitive skin. Made with organic and natural ingredients that hydrate your skin long after you shower, soothes inflammation and reduces pore size with time. The cooling aloe cleansing gel calms your skin and the foam breaks down oils and dirt, leaving it feeling velvety soft, with no greasy residue. 
Smooth Texture
Sweet Orange extract High in AHAs, that gently exfoliates dull, tired skin and encourages collagen production smoothing wrinkles and reducing signs of premature aging. Rosehip is high in linolenic acid that helps to lock in hydration for soft, supple skin. Aloe Vera and Calendula provide essential cooling and gentle hydration that help to relieve dry, itchy and flaky skin.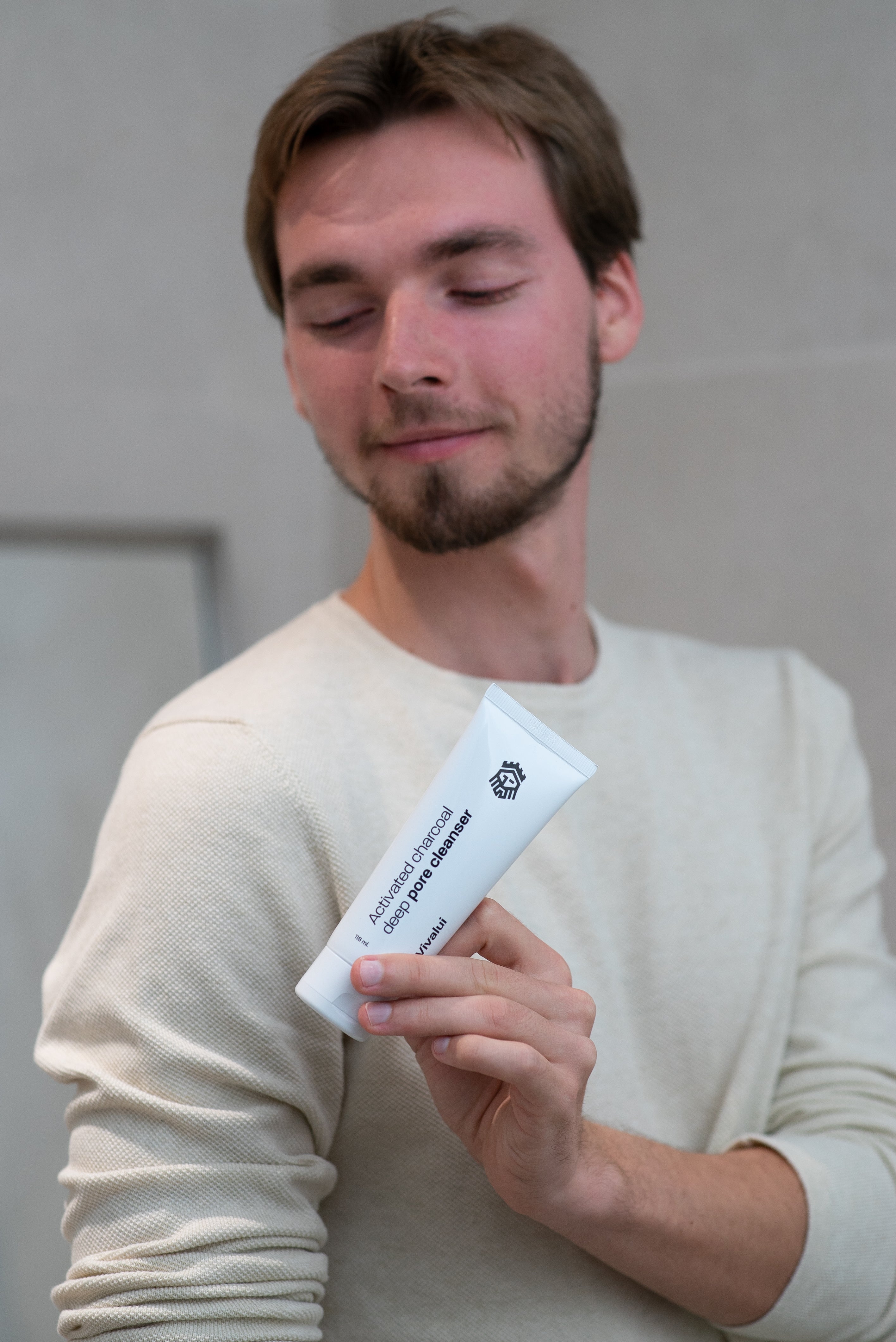 Key Ingredients
✤ Activated Bamboo Charcoal — Absorbs toxins, impurities, and free radicals that cause excess oil and blemished skin.
✤ Sweet Orange Extract — High in alpha-hydroxy acids (AHAs). Increases collagen production and blood flow to smooth wrinkles and lines. Improve elasticity and promotes even tone. Moisture-retaining humectants help skin absorb vitamin C – an anti-aging necessity!
✤ Calendula — helps to plump the surface of the skin, leaving it tighter and supple. Anti-inflammatory, antioxidant, antibacterial (fights acne).
How To Use
Use your cleanser instead of soap, twice a day (am and pm).
✤ Wet your face with water.
✤ Apply the cleanser.
✤ Lather for two minutes.
✤ Rinse and pat dry.
Add a moisturizer and sunscreen (during the day) to complete a basic and quick skincare routine!
Full Ingredient List
Aqua (Deionized Water), Decyl Glucoside, Organic Aloe Barbadensis Leaf Juice (Aloe Vera), Dimethyl Sulfone (MSM), Lavandula Officinalis (Lavender Water), Cocamidopropyl Betaine, Cocamidopropyl Hydroxysultaine, Charcoal Powder (Bamboo Charcoal Powder), Organic Olea Europaea (Olive Oil), Organic Rosa Canina (Rose Hip Oil), Borago Officinalis (Borage Oil), Citrus Aurantium Dulcis (Orange Peel Tincture), Origanum Compactum (Oregano Oil), Melaleuca Alternifolia (Tea Tree Oil), Citrus Grandis (Grapefruit Seed), Organic Calendula Officinalis (Calendula), Origanum Arctium Lappa (Burdock Root), Organic Trifolium Pratense (Red Clover), Organic Rosmarinus Officinalis (Rosemary), Organic Centella Asiatica (Gotu Kola Extract), Organic Equisetum Arvense (Horsetail Plant Extract), Pelagonium Gravoleons (Wild Geranium Extract), Organic Taraxacum Officinale (Dandelion Extract), Cocamide Mipa, Disodium Laureth Sulfosuccinate, Disodium Lauryl Sulfosuccinate, Hydroxyethyl Ethylcellulose, Carrageenan, Potassium Sorbate, Sodium Benzoate, Phenoxyethanol, Ethylhexylglycerin.